The data received upon the opening the account (Account number and Trading password) should be input into the terminal settings. Run the trading terminal, bring up a settings window from the text menu (at the top of the terminal), as it is shown in the picture:
1
Authorization
For authorization, perform a command 'Login" of the account shortcut menu (right mouse click on the account number) in the "Navigator" window or the "File" menu.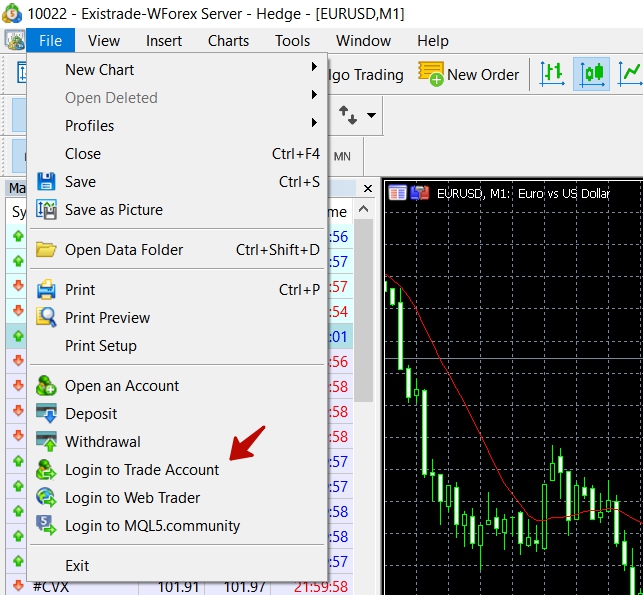 2
Data input
Then in the dialog box should indicate the number of accounts, one of his passwords (standard or investor) and select a server. After providing the information, press the "Login" button.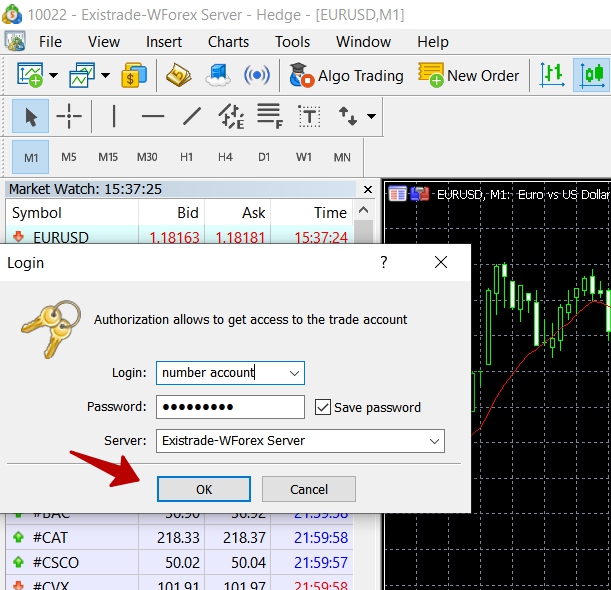 3
Login to the system
When all the data, click "Login".
Recommended to put a tick in the box "Keep personal information."
In this case, during the startup of the terminal, a login window, all authorized accounts will be displayed automatically.
4
After logging in
In the opened settings window (section "Server") you shall input:
In the "Login" field – account number.
In the "Password" field – your trading password
In the "Server" field – select a trading server from the list: Existrade LTD
If the abovementioned servers are not mentioned or differ from ones in the trading terminal – they are to be input manually:
Existrade-WForex Server
mt5-dc1.wforex.com
mt5-dc2.wforex.com
mt5-dc3.wforex.com
When carry over the password, we recommend to use the option of copy and paste to avoid possible false interpreting of some complicated symbols (for example, 'i j' , 'q g' , 'h n' ) in case of a manual letter-by-letter input.
Important! If you do not activate the option "Save personal settings and data upon startup" in the settings window, your password will not be saved when closing the terminal and at the second login, you will have to input it again.
Therefore copy and/or keep the trading account data in a secure place, in case you do not use this option.